Esketamine for Depression
We offer the only FDA-approved ketamine-based treatment for depression. Nasal esketamine (Spravato®), is a safe, physician-supervised, psychedelic nose spray therapy that is covered by many insurances. Often, nasal esketamine is effective at treating depression in patients who have been unable to find relief through other methods, like talk therapy and antidepressants. Learn more about esketamine treatment and determine if it might be right for you.
It is believed, based on the current research, that Ketamine disrupts the brain chemical glutamate. Glutamate is involved vvith learning, memory, emotion, and pain recognition. Ketamine can cause rapid heart rate and elevated blood pressure.
Esketamine is a part of ketamine, and was made to be more potent in its nasal form, so you can use this medication at a lower dose and, likely, have fewer side effects.
Esketamine must be used in conjunction with a conventional antidepressant and is regulated through a federally mandated risk mitigation program. Esketamine can provide rapid relief from depression symptoms and suicidality.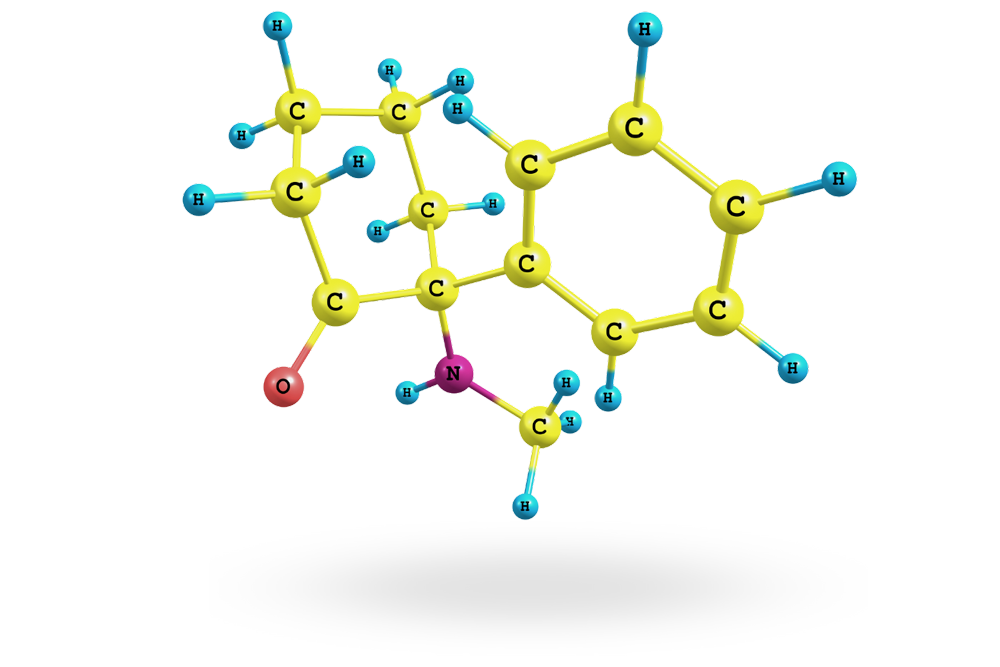 Learn more about Esketamine.
Esketamine is made from a drug called ketamine, which was first used in clinical practice as an anesthetic (sedative). In the 1970s, ketamine's use for the treatment of psychiatric disorders was first noted and has been studied formally since the 1990s. In 2019, the FDA approved nasal esketamine, a ketamine-based nasal spray for adults with treatment-resistant depression (TRD) and adults with major depressive disorder (MDD) - sometimes called Clinical Depression - with suicidal thoughts or behavior. TRD simply means that standard treatment methods have not been able to successfully treat the depressive episode.
Although you may have also heard of ketamine as a psychedelic street drug with names such as 'Special K' or 'K', its use can be safe when under the supervision of a trained clinician. To learn more, check out our Esketamine: VIDEO BLOG POST - Busting the Myths, where we dispel some of the most common misconceptions about this medication.
Is Esketamine (Spravato®) right for me?
Esketamine is not right for everyone. However, for the right people, it does show great promise. At the Neuroscience & TMS Treatment Center, we offer no-cost consult with our clinical coordinator to help walk you through the options and determine if nasal esketamine might be a good fit. You can also take our quick screening questionnaire anytime to find out if esketamine could possibly benefit you.
If you've tried other depression treatments (medications, therapy, TMS, or even ECT) without success, there is still hope. In fact, most of our patients have tried several types of treatments before finding success with nasal esketamine.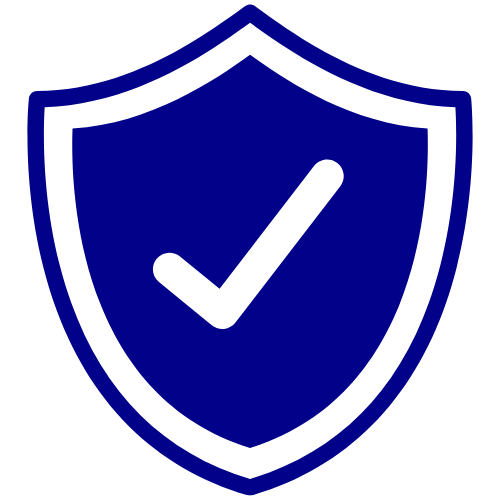 Covered by many
insurance plans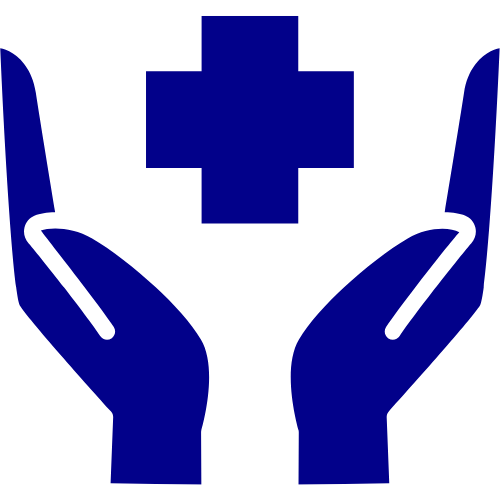 FDA-cleared and
clinician-supervised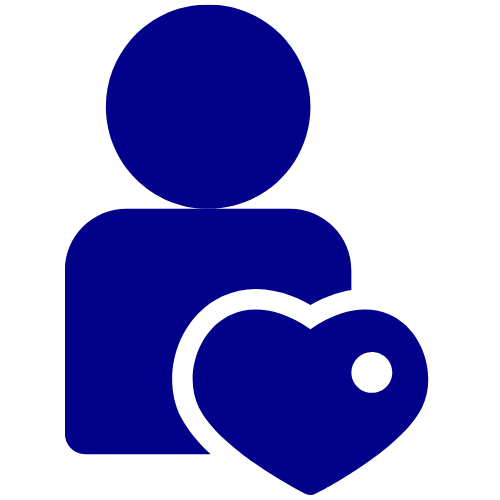 Knowledgable and
experienced staff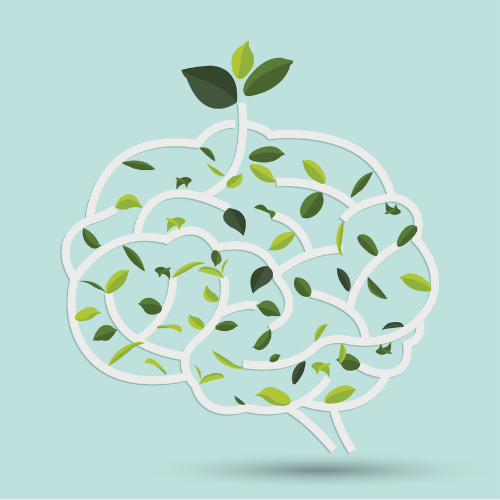 Treatment in a safe and comfortable environment.
Your comfort and safety are our top priortities. Since esketamine, like ketamine, is a psychedelic treatment, you may experience feelings like euphoria, dizziness, or intoxication. Our expert care team will be available onsite, and will also closely monitor you and your blood pressure throughout treatment. Learn more about esketamine treatment, including what to expect and how to prepare.
Typical Course of Treatment
Each patient is unique and will receive their own individualized care plan. However, the treatment course for nasal esketamine typically starts with two treatments per week for the first four weeks, followed by one treatment per week for four to eight weeks, before being reduced. The goal is to reduce treatment frequency to once per month. Esketamine must be used in conjunction with a conventional antidepressant.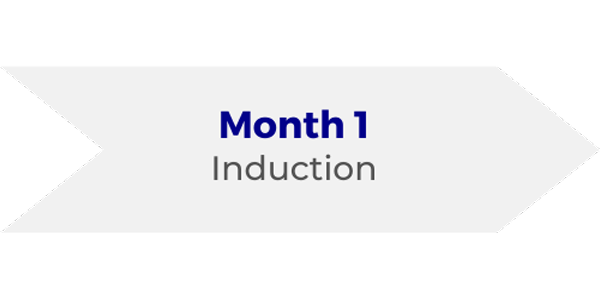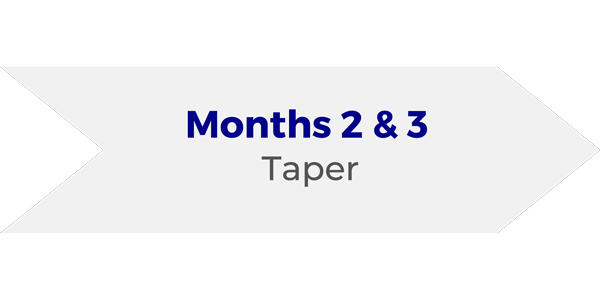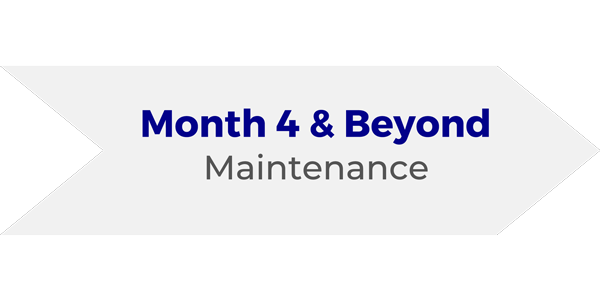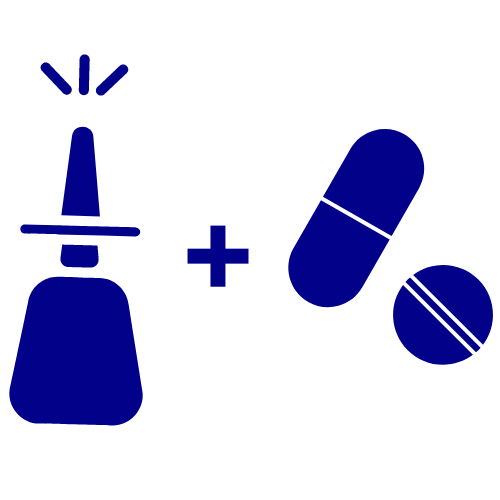 2 treatments per
week for 4 weeks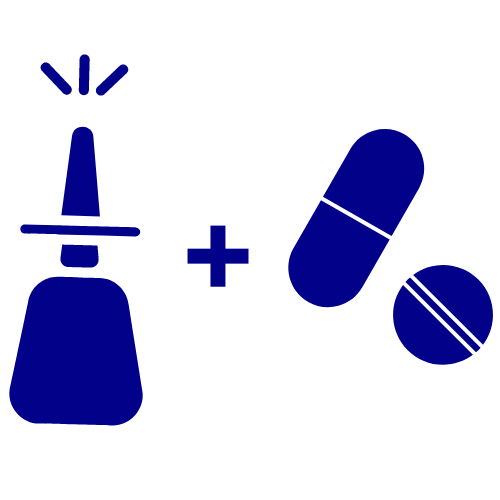 1 treatment per
week for 4 to 8 weeks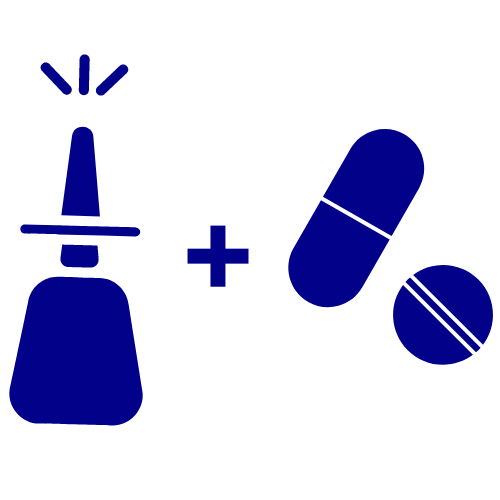 1 treatment every
3 to 5 weeks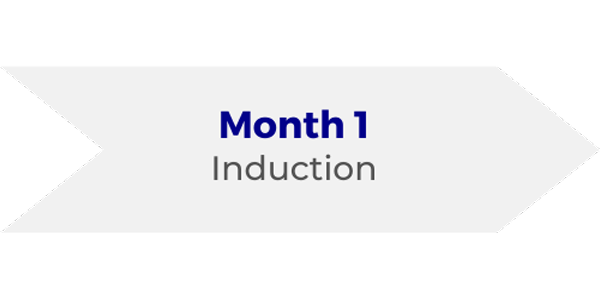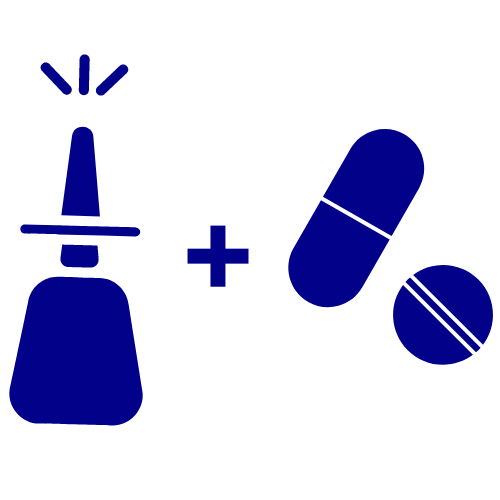 2 treatments per
week for 4 weeks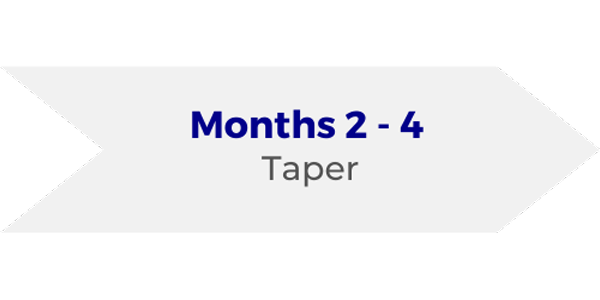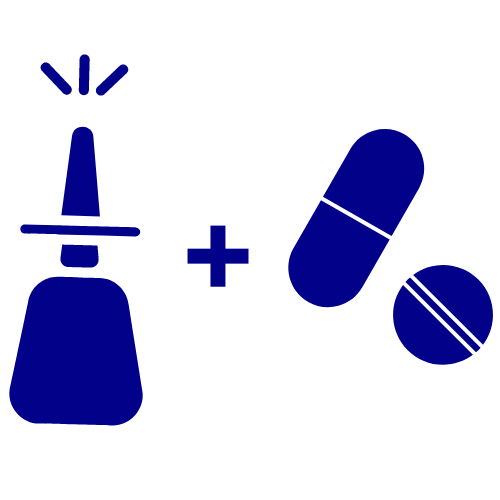 1 treatment per
week for 4 to 8 weeks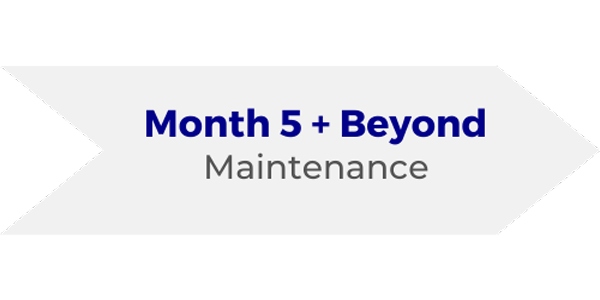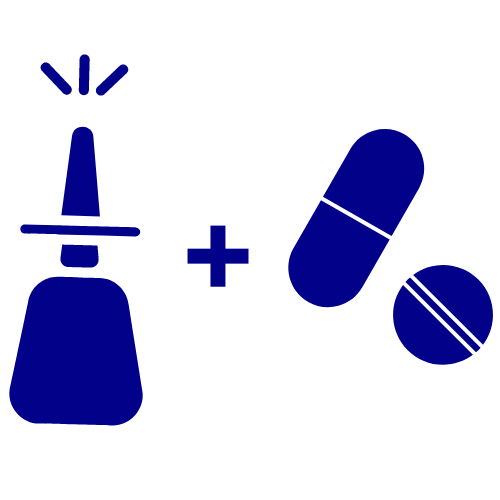 1 treatment every
3 to 5 weeks
Esketamine & Ketamine: Busting the Myths
This is not true. The benefits of ketamine (and esketamine) on depression typically wear off within a couple of weeks to a few months, at best. In most every study with these medications, patients needed to be on a maintenance treatment schedule to keep the antidepressant benefit of ketamine (or esketamine).
This is not true. There are online ketamine advertisements for at home shipments of oral ketamine, ketamine suppositories, or compounded nasal ketamine to be administered in the home. There are two major concerns with at home ketamine:
The amount of drug that is actually absorbed through these oral, suppository, or nasal ketamine formulations is POOR. The FDA has submitted adversaries about these formulations which were not FDA-approved.
Although rare, ketamine and esketamine can cause elevations in blood pressure which could cause a stroke or heart attack. Administration with esketamine must be done per a Risk Evaluation and Mitigation Program (REMS). It is recommended to give these medications in a physician's office where monitoring can occur.
For more information, reference the At-home Ketamine Warning posted by the FDA.
This is not true. Many ketamine doctors are not psychiatrists. They have not received specialized training for and have not treated depression during their entire medical career. Additionally, they are not specialists in treatment-resistant depression and are not able to truly discuss all treatment options available with a patient. Also, many of these non-psychiatrist clinics are CASH-pay clinics, meaning the services they offer, including ketamine treatments, are not covered by insurance. So, treatments can be very expensive for patients. Unfortunately, these clinics often make false claims that the ketamine treatments will 'cure' a patients depression.
We are an in-network, specialized psychiatric clinic that evaluates patients thoroughly and assesses the risks and benefits of each type of treatment for each individual patient.
This is false. Though ketamine can be pricey, the ketamine-based treatment we offer, nasal esketamine (Spravato®), can be a very reasonably priced option. When choosing between ketamine and esketamine (Spravato®), it is important to consider the costs. Both treatments will require maintenance sessions to maintain response. Esketamine (Spravato®) is the only FDA-approved ketamine-based treatment available, and is covered by most insurance plans. This makes it affordable for most people. Ketamine is not covered by insurance. Additionally, patients who begin ketamine treatments may be stuck paying thousands of dollars a year, out of pocket, for continued treatment in order to stay well.
We strive to educate, empower, and inspire patients to help them lead happier, healthier lives. Check out our blog for news and helpful information, expert tips, answers to some of your most frequently asked questions, and much more.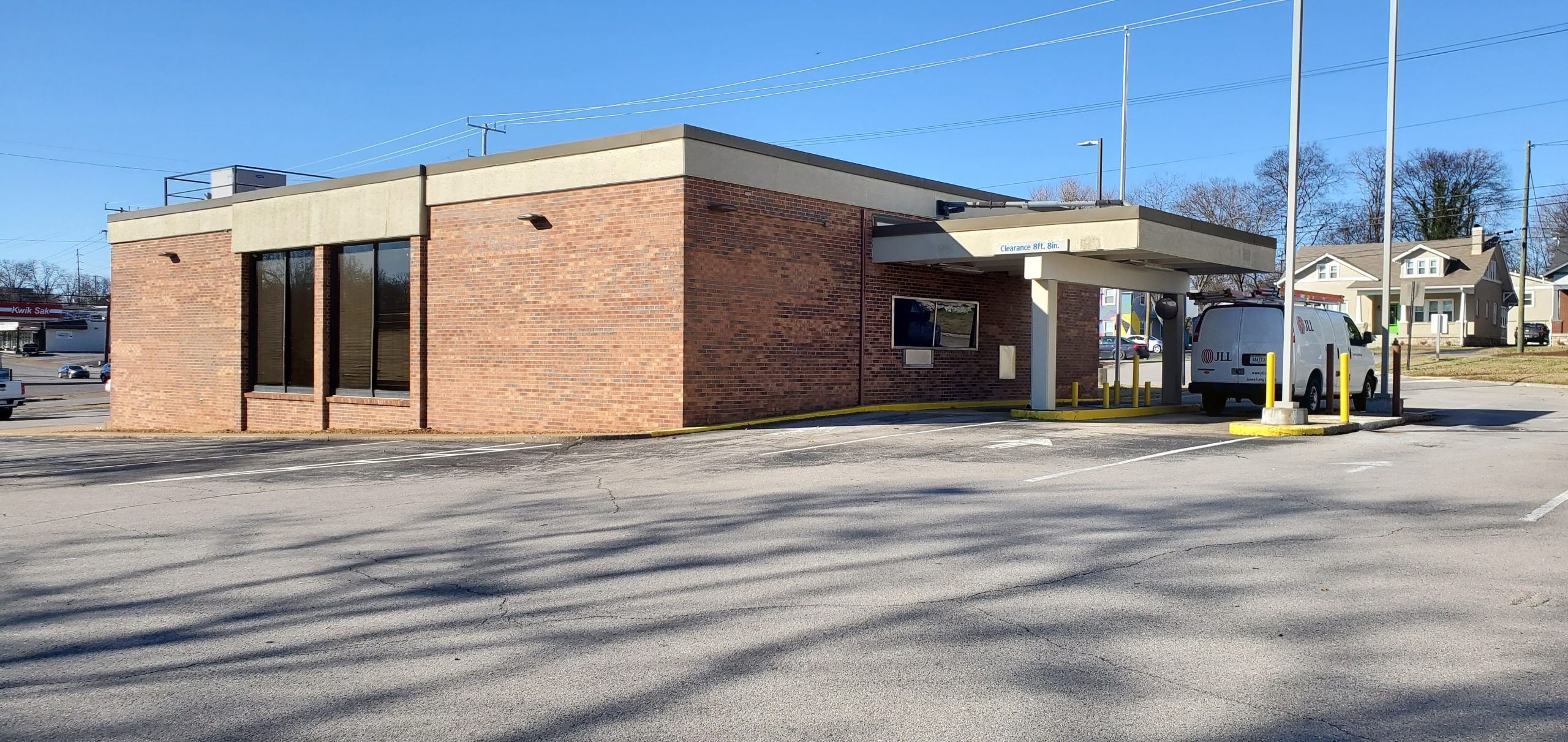 Well…we didn't actually buy a bank, but we did buy a bank building and property!  After renovations, this property will be a marquee location for all behavioral …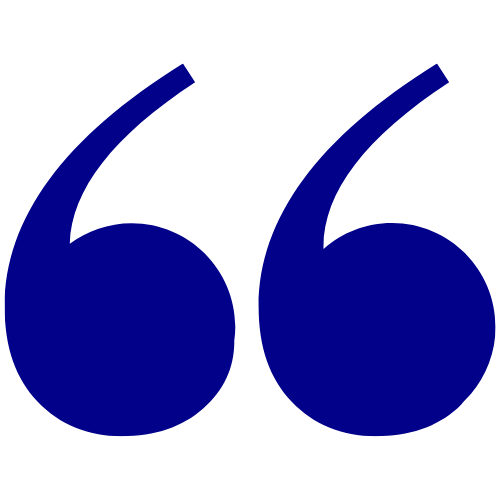 Physician Recommended.
Patient Preferred.
Dr. Cochran at The Neuroscience and TMS center has served as my psychiatric care physician for the past 5 years. I have made tremendous progress while seeing her. She is attentive, thorough, and professional. I refer her to everyone I know in need of psychiatric care because I trust her and her staff completely. I am very thankful to be a patient of the Neuroscience and TMS center.
-CL
This hands down is the BEST doctor's office I've ever been to. Not just on a psychiatric level, but just a medical setting in general. I love Dr. Becker and I'm beyond grateful that I found him. He is very personable and just one of the easiest people to talk to. And the front desk is great too and that goes a long way! So yes, 5 stars! I recommend this to anyone who needs to find a good and relaxed environment for psychiatry.
-MM
Mary is wonderful. She understands my medical condition and truly cares. She listens and comforts you in time of need. She is a true human being and doesn't treat you like a number. She is very professional and knows her stuff.
-AC
Ali was amazing. We have searched for help for years for our son. It was nice for her to listen but then give great advice!! We are in the process of implementing her parenting plan and It is not easy but we can already see a difference!!
-ER
This was a great treatment for me. I have completed TMS therapy numerous times b/c I keep getting better and better. I suffered a traumatic brain injury and was steered towards TMS and it has helped me tremendously…This team knows what they are doing and I'm happy I had the opportunity to do this.
-JP
The staff are 100% committed to the clients' health and well-being. They find solutions tailored to the individual's needs and goals. If I could leave 10 stars, I would. ⭐️⭐️⭐️⭐️⭐️⭐️⭐️⭐️⭐️⭐️
-HH
Everyone from Dr. Becker on down has done an outstanding job. Professional and caring that is hard to find in medicine today and you guys provide both!! And, Emily is a real gem as the TMS tech.
-EPC, MD [VUMC]

Want to learn more about one of our treatments or services?
Need to schedule an appointment or have a question about your care plan?
We're here for you!
Call 615.224.9800, use our HIPAA compliant text line, 615-551-5853,
or simply complete the following contact form and someone will be in touch with you during office hours.