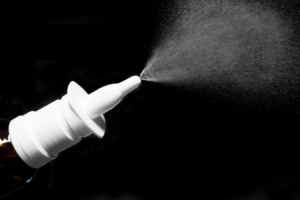 The drug, ketamine, comes in a variety of forms, potencies, and uses. For example, the medical community often uses it at high doses as an anesthetic and/or to help manage pain. Additionally, at lower, sub-anesthetic doses, clinicians may use ketamine to help treat depression. Nasal esketamine (Spravato®), which is the only FDA-approved ketamine-based treatment for depression, is an example of this. Unfortunately, however, people also commonly abuse ketamine for its hallucinogenic and dissociative effects.
With such a vast array of uses, forms, and potencies, it is no surprise that ketamine has become shrouded in myth and mystery. So, we are here to help separate fact from fiction and bust some of the most common myths about ketamine and esketamine. Read on to learn more.
Watch our Patient Education Series/YouTube Channel to see all of our videos on Keamine and more!
Myth: Ketamine is a "cure" for depression.
This is not true. The benefits of ketamine (and esketamine) on depression typically wear off within a couple of weeks to a few months, at best. In nearly every study with these medications, patients needed to be on a maintenance treatment schedule to keep the antidepressant benefit of ketamine (or esketamine).
Myth: Ketamine is safe for everyone to use at home.
This is not true. There are online ketamine advertisements for at-home shipments of oral ketamine, ketamine suppositories, or compounded nasal ketamine to be administered in the home. There are two major concerns with at-home ketamine:
The amount of drug that is actually absorbed through these oral, suppository, or nasal ketamine formulations is POOR. The FDA has submitted adversaries about these formulations which were not FDA-approved.
Although rare, ketamine and esketamine can cause elevations in blood pressure which could cause a stroke or heart attack. Administration with esketamine must be done per a Risk Evaluation and Mitigation Program (REMS). Therefore, these medications should be given in a physician's office where monitoring can occur.
For more information, reference the At-home Ketamine Warning posted by the FDA.
Myth: You can trust any clinic for ketamine treatment.
This is not true. Many ketamine doctors are not psychiatrists. They don't have specialized training for treating depression and have not treated it throughout their entire medical career. Additionally, they are not specialists in treatment-resistant depression and are not able to truly discuss all treatment options available with a patient. Also, many of these non-psychiatrist clinics are CASH-PAY clinics, meaning the services they offer, including ketamine treatments, are not covered by insurance. So, treatments can be very expensive for patients. Unfortunately, these clinics often make false claims that the ketamine treatments will 'cure' a patient's depression. However, we know from myth #1, that this is not true.
At NeuroScience & TMS Treatment Centers we are an in-network, specialized psychiatric clinic that evaluates patients thoroughly and assesses the risks and benefits of each type of treatment for each individual patient.
Myth: Esketamine treatments are too expensive for most patients.
This is not true. Though ketamine can be pricey, the ketamine-based treatment we offer, nasal esketamine (Spravato®), can be a very reasonably priced option. When choosing between ketamine and esketamine (Spravato), it is important to consider the costs. Both treatments will require maintenance sessions to maintain response. Esketamine (Spravato®) is the only FDA-approved ketamine-based treatment available and is covered by most insurance plans. This makes it affordable for most people. Ketamine is not covered by insurance. Additionally, those who begin ketamine treatments may be stuck paying thousands of dollars a year, out of pocket, for continued treatment in order to stay well.
Myth: Ketamine helps treat all sorts of psychiatric conditions.
There is not enough evidence to support this claim. However, we do know that ketamine and esketamine treatments have been scientifically studied and shown to help those patients who have failed to respond to multiple classes of antidepressants. In our office, we prefer to offer treatments with good response and remission data that have more durability before we offer Esketamine. Neurostimulation treatments, such as TMS (Transcranial Magnetic Stimulation), have an advantage over ketamine and esketamine. People who get better with TMS typically stay better without the need for any maintenance treatments.
Another group of people who 'seem' to particularly benefit from ketamine are people with a trauma history. This is not an FDA-approved treatment for PTSD, but there are many small studies that have shown that people who have experienced trauma are helped by ketamine and esketamine. Insurance covers esketamine for treatment-resistant depression (TRD) in adults and depressive symptoms in adults with major depressive disorder (MDD) with acute suicidal ideation or behavior.
Learn more about esketamine on our Esketamine Treatment Page. 
---
Blog Post Co-Authors
Michelle Cochran, MD, DFAPA
Founder & Chief Medical Officer • Medical Director, Nashville Locations
Dr. Cochran has been living and working in the Nashville area for over 25 years. She supervises the skilled Nurse Practitioners who work in our clinics. She has been offering TMS services since 2011 and lectures and consults nationally and internationally about TMS. She is Board Certified and is a Distinguished Fellow of the American Psychiatric Association. Learn more about Dr. Cochran.
Jonathan Becker, DO
Medical Director, Brentwood Locations
Dr. Becker is a native of Tennessee, born in Memphis. He completed his undergraduate and master's degrees in Developmental Psychology at Tulane University in New Orleans before attending Des Moines University for Medical School. He completed his psychiatry residency program at Vanderbilt University and served as a faculty member there for 7 years before transitioning to our office. While at Vanderbilt, Dr. Becker served as the medical director of the neuromodulation service from 2017-2020. Dr. Becker has also published many psychiatric articles. Learn more about Dr. Becker.