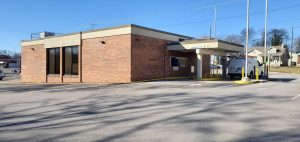 Well…we didn't actually buy a bank, but we did buy a bank building and property!  After renovations, this property will be a marquee location for all behavioral health clinics to model across the United States. A property where patients get access to excellent mental healthcare with many services and benefits:
New Patient Evaluations

Thorough Team Evaluations
In-Depth One on One Evaluations

Med Management & Therapy

Board Certified Psychiatrists
Board Certified Psychiatric Nurse Practitioners
Licensed Therapists

FDA Approved Interventional Treatments

TMS (Transcranial Magnetic Stimulation)
esKetamine Treatments (FDA Cleared version of Ketamine)
Other Psychedelics as they Pass FDA Clearance

Great Location

Easy to Find
Ample Parking
Grand Opening
We currently operate in East Nashville at Center 615, and this new location will be open in fall 2023.  We look forward to helping you or your loved ones at this location or any of our others!
---
Blog Post Co-Authors
Michelle Cochran, MD, DFAPA
Founder & Chief Medical Officer • Medical Director, Nashville Locations
Dr. Cochran has been living and working in the Nashville area for over 25 years. She supervises the skilled Nurse Practitioners who work in our clinics. She has been offering TMS services since 2011 and lectures and consults nationally and internationally about TMS. She is Board Certified and is a Distinguished Fellow of the American Psychiatric Association. Learn more about Dr. Cochran.
Jonathan Becker, DO
Medical Director, Brentwood Locations
Dr. Becker is a native of Tennessee, born in Memphis. He completed his undergraduate and master's degrees in Developmental Psychology at Tulane University in New Orleans before attending Des Moines University for Medical School. He completed his psychiatry residency program at Vanderbilt University and served as a faculty member there for 7 years before transitioning to our office. While at Vanderbilt, Dr. Becker served as the medical director of the neuromodulation service from 2017-2020. Dr. Becker has also published many psychiatric articles. Learn more about Dr. Becker.